The temple of Shree Hatkeshver Mahadev(Lord Shiva) is situated in the village of Vadnagar in Gujarat. This temple is said to be around 1800 years old. It is said that the Linga of Shree Hatkeshver Mahadev goes till the bottom of the earth. Lord Hatkeshver is 'Ishta Dev' of the people of 'Nagar-Brahmin'caste of Hindu religion. The temple is a national heritage having artistic carvings in-side and out-side the temple
The Linga of Lord Hatkeshver is said to be of pure gold. The "Linga" of Shri Hatkeshver is situated from the surface from we see it, till the "PATAL"(the lowermost of the seven mythological subterranean regions)

How this Shivling became Golden.??

When Goddess Parvati asked Lord Shiva to introduce her to Shree Ramchandra,as Lord Shiva bowed down to Him. As an answer, Shivji said, "I bowed to all the souls considering (believing) them as "Ram". But Goddess Parvati did not believe to what Lord Shiva said. Then Lord Shiva showed Goddess Parvati, Lord Ram. But during that Lord Ram showed thousand of the incarnations of Brahma, Vishnu,Shivji and "Devis" Brahmani, Ravdani and Indrani and thus did not show His real form to Goddess Parvati.

Thereafter Parvati changed her appearance as "Goddess Sita"(wife of Lord Ram) and went to Ram test Lord Ram. But Lord Ram recognized that it was Goddess Parvati and asked her, "Mother why have you come alone, where is Lord Shiva?".

By this act, Goddess Parvati felt very ashamed and came back to Lord Shiva. When Lord Shiva asked, Goddess Parvati, lied and said that she bowed to Lord Ram. But Lord Shiva by His third eye (Divine eye) came to know what took place and that Lord Ram had identified that she as Parvati.

As Parvati did this mistake, and above that lied to Lord Shiva, Lord Shiva abandoned her. In order to repent for her act, Goddess Parvati burnt her body by the "Yoga" fire in the "Yagna" (ceremonial performance of a sacrifice) organized by her father "Daksha". The burnt body was brought to Lord Shiva.

So Lord Vishnu thought that it is better to get rid of the burnt body as Lord Shiv may destroy everything seeing the burnt body again and again and so Lord Vishnu ordered the "Sudarshan Chakra" to cut the body of Parvati into pieces. The body of Goddess Parvati which was hanging on the shoulders of Lord Shiva was cut into 84 pieces. Wherever these 84 pieces of Parvati's body were fallen, they became centers (seat of God or Faith), which were known as "Jagdamba Pith" centers.

In this situation , Lord Shiva in fascination of Goddess Parvati experienced separation and loneliness, started wandering here and there. While wandering, he came to Chamatkar nagar which today is known as Vrudhnagar(Vadnagar) situated in Nairutya of Abu (Arbndaraya)

At this place Lord Shiva came without any cloths on his body. And hence his body fascinated the wives of "Hrishis" (Brahmins) and thus they started wandering after Lord Shiva. The Brahmins became very angry with Lord Shiva and they prepared a weapon, "Brahmashtra" of "Darbhshalak" and used it against Lord Shiva. Hence Lord Shiva were transformed into "Shiv-linga" and fell on earth and great flow of blood started flowing and the "Shiv-linga" entered the Patal. The earth started trembling and the Gods became frightened and started praying Lord Shiva (Stuti).

Then Lord Brahma requested prayer said to Lord Shiva to become a Golden "Shiv-linga" and that He (Lord Brahma) shall worship it. Thereafter the "Shiv-linga" became golden and was established in Patal and Lord Brahma started worshiping it.

This is how the Linga became "Golden"

In Skandhpurana's, Nagarkhand, there is a description of origination of Shree Hatkeshver.

In ancient time, there was a King named Chamatkar in the region know as "Aanartdesh", He was suffering from Leprosy due to a curse from a she-deer. With the advice of sages, King Chamatkar, on the 14 month of hindu calendar took bath in the famous "ShankhTirth" situates in Vadnagar, and his Leprosy was cured. Thereafter he established the town named "Chamatkarpur"(now Vadnagar).

In this town a Brahmin of "Vatsa Gotra" named "Chitrasharma worshipped Lord Shiva to bring the Linga of Shree Hatkeshver from "Patal" on earth's surface. He pleased Lord Shiva by his worship and brought the linga of Shree Harkeshwar on surface of earth from Patal and this Golden Shivking was founded in a big Temple.

The beautiful craftsmanship and the stone carving describing the episodes of mythological/ancient stories enchants everybody.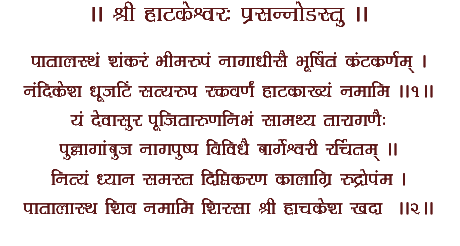 HATKESHWAR TEMPLE IN UDAIPUR
Dahoras living in Udaipr have costructed a temple of Hatkeswar Mahadev in Udaipur. There used to be a Peepal Tree where Dashoras were praying. This place has now evolved into a Hatkeshwar Temple.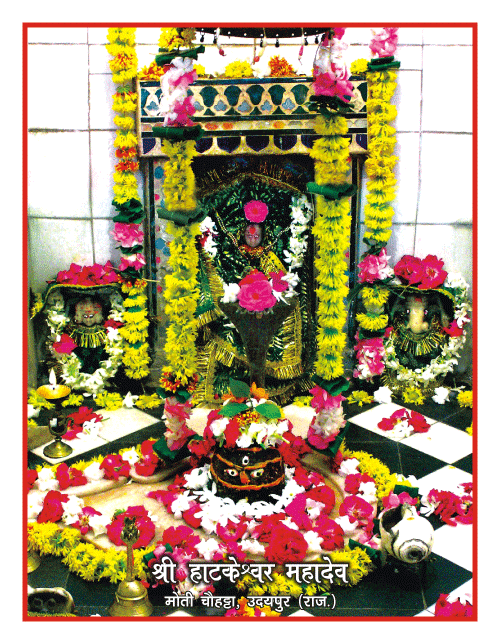 Hatkeshwar Temple Moti Chohatta Udaipur, Rajasthan India.