NEWS May -2008
Hatkeshwar Jayanti Celebration, Khandwa
Submitted by Dayawant Dashora
May 13, 2008.
On 19th April 2008 the programme of Hatkeshwar Jayanti was held in Khandwa. The main organisers of the programme were Dashora Nagar Samaj Khandwa & Badnagara Nagar Brahmin Samaj Khandwa. It was the 20th year of the programme. In the Hatkeshwar temple at Khandwa Badnagara priest Pt Tushar Madan Mohan Dave lead the programme.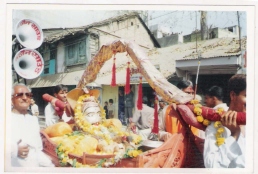 Hatkeshwar Palki khandwa
Hatkeshwar Jayanti

Programme Highlights
Special Guests
Chief guest : Mr Hukumchandra Yadav ( Member of State Assembly)
Mr Devendra Verma (Member of State Assembly)
Mr Veer Singhji Hindon (Mayor Khandwa)
Mr Shri Harishankar Bhagat (Banapura Khandawa)
President of the Programme Shri Kailash Chandra Dashora (Gheewale)

Programme Controller
Shri Pankaj Dashora and Shri Arun Dashora

Chief Orators
Shri Umashankar Bhagat (Charuwa)
Shri Dayawant Dashora( Coordinator, Dashora Brahmin Samaj ,Bhopal, Madhya Pradesh )

Programme

Date: 17/April / 2008

1. Abhishek of Mahakaleshwar was done.
(Contribution for abhishek from each couple paid Rs 151/- is acknowledged)

2. Akhand Ramayan Path : 8'o clock

3. Mahila sabha.

Date: 18/ April /2008

Upnayan Sanskar - Morning 8'o clock

(6:00pm to 8:00pm)

Dance Competition
Fancy Dress competition (Boys & girls)
Antakakshari competition for girls

Date: 19/April/2008

Bhagwan hatkeshwar ka dugdh panchamrut se abhishek 1:00 pm
Bhagwan hatkeshwar ki maha aarati - 4:00 pm
Shobha yatra - 5:00 pm
Aam sabha - Ratri 7:00 pm
Banddhara - (bhoj) 9:00 to 11:00 pm for all Samaj members
Note: Bandhara by Kashibari Wife of late Shri Shankarsa Kashyap ( Peeplod)

Bhagwan Parshuram Jayanti Celebration

Submitted by Dr. Sumit Mishra
Dr. Surendra Kumar Mishra and Smt. Madhubala Mishra organized on the 8th May, 2008 the Celeberation of Bhagwan Parshuram Jayanti in the town of Rajod dist. Dhar, M.P., India. It is the first time in over 150 years that this event was attended by whole of Brahmin Community. Over 300 People attended the celebration. The success of the celebration was result of hard work and financial contribution by the Mishra Family (A Dashora Brahmin Family).
Congratulations on a job well done!

.